TO HELP PLAN YOUR VISIT PLEASE SEE BELOW USEFUL INFORMATION
ENTRY TO THE MERRION CENTRE:
In line with Government guidance, face coverings are mandatory within shopping centres. Please ensure you wear a face covering over your nose and mouth at all times whilst in centre. For further information please see below or visit gov.uk/face-coverings.
Our toilet charter is no longer in operation and no on-site washroom facilities are available.
Hand santiser stations are located at each of our entry points.
A new one way system is in place to assist you to transit safely around the centre. This is clearly signposted and our customer service team are on hand to assist with any queries you may have.
Queuing systems adhering to social distancing guidelines are also in place for our stores – these again are clearly signposted.
The

ATM

's on the main mall are operational and are sanised on a regular basis.
To see stores that are currently

OPEN

at the Merrion Centre please visit

WHAT

'S

OPEN
WE WOULD LIKE TO THANK OUR VISITORS FOR YOUR SUPPORT AS WE CONTINUE TO IMPLEMENT OUR COVID COMPLIANT STRATEGY.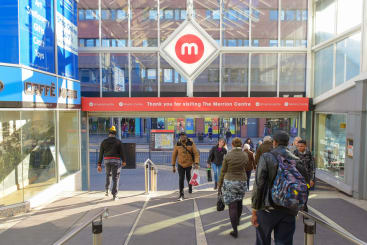 STANDARD CENTRE OPENING TIMES:
MON – SAT 6.30AM – 9.30PM
SUN 10.00AM – 6.00PM
Please note: Some of our stores are operating on differing operational days and times to those pubished on our website, please contact individual retailers for further details.
To view our map visit merrioncentre.co.uk/centre-map
FACE COVERINGS AT THE MERRION CENTRE
Face coverings are mandatory in all the Merrion Centres stores and venues.
For the safety of our staff and visitors, in line with government guidelines, we are asking everyone to wear a face covering over their nose and mouth whilst in the Merrion Centre.
Our security team will be mindful there may be reasons why a face covering cannot be worn, however if approached by our team please advise the staff member accordingly.
Face coverings are not a replacement for social distancing and regular hand washing.
For further information please visit gov.uk/face-coverings.
KEEP UPDATED & GET SOCIAL (at a distance)
We will endeavour to keep customers updated as we receive any further information via our website and social media channels (Facebook, Twitter). We would also like to reassure customers that we are closely following Government guidelines to ensure extra measures are being taken to keep public areas clean and sterile.
Please note: Whilst we try to keep updates as accurate as possible, these may change with no prior warning. We recommend customers check with the relevant store directly