Promotions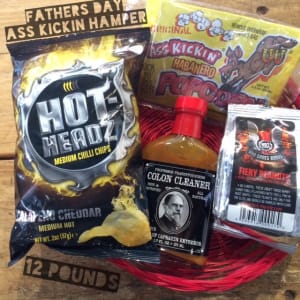 Chilli Shop
Chilli Shop Fathers Day Hot Hamper!
Are you looking for a unique and memorable gift this Fathers Day (Sunday 18th June)?
The Chilli Shop has just the thing for those men that like things hot with their "Fathers Day A** Kickin Hamper"
The hamper contains:
- "Colon Cleaner" Sauce
- A** Kickin' Popcorn
- Hot Cheddar Crisps
- "Who Dares Burns" Naga Nuts
This unique gift comes in a cellophane wrapped hamper tray and includes a "Heat rating chart" so the recipient can prepare themselves to "feel the burn"!
These "Hot Hampers" are available at the Chilli Shop on Merrion Street for just £12.00!
Alternatively you can build your own bespoke chilli hamper in store!