Stephanie Hirst at the Merrion Centre!
Sun 4 Aug – Sun 4 Aug 2019
On the 4th August from 10am-2pm, Radio & TV personality Stephanie Hirst will be with us dj'ing at the Merrion Centre to get the party started!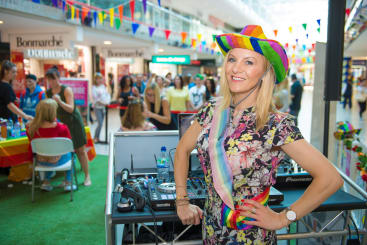 Stephanie is one of the biggest names in the radio industry (along with her legendary Facebook "kitchen belters" on a Saturday night!), and we are thrilled that she will be joining us once to celebrate whilst playing some great music to keep our visitors entertained!
Don't forget – we will also have our ever popular FREE GLITTER STATIONS so you can get "Glittered Up" and sparkle for Pride!
To register your interest in this event visit our FACEBOOK PAGE
WE HOPE YOU HAVE A FANTASTIC PRIDE!