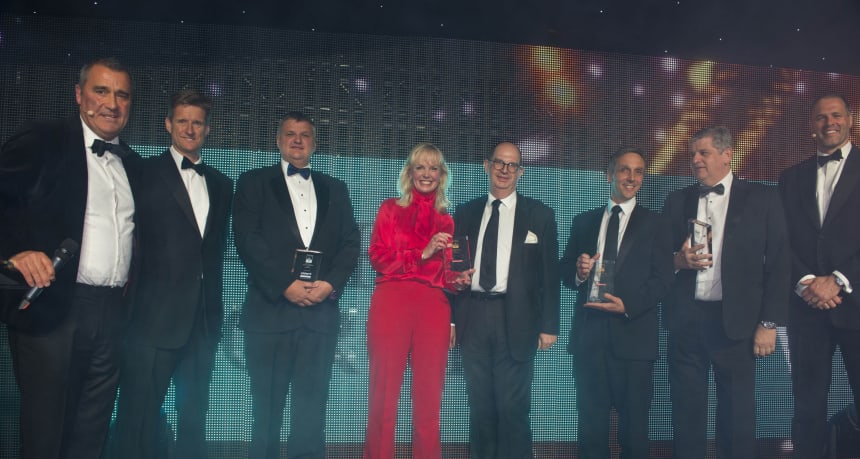 The Merrion Centre Crowned Champions of Regeneration in Leeds
Fri 12 May, 2017
The Merrion Centre has been handed a prestigious award for its delivery of regenerating parts of Leeds, taking home the title of 'game changer' at the 2017 Yorkshire Property Awards.
At an event last week Town Centre Securities, the owners of the centre, were presented with the award in recognition of the transformation that has taken place in and around Leeds's longest established shopping centre.
The Yorkshire Property Awards, which this year celebrated its 20th anniversary, are held in order to celebrate the achievements and efforts of Yorkshire's commercial property sector. The event also raises money and is hosted by Variety, the children's charity.
The Merrion Centre was picked out by the judges, due to the large scale and success of the work that has taken place across the Merrion Centre, including the new ibis Styles Leeds City Centre Arena Hotel and transformation of Merrion Way and Wade Lane.
Bruce Lightbody of Addleshaw Goodard, who was part of the judging panel, said:

"The transformation that has taken place across this site has been truly remarkable. What was an original 1960's shopping centre is now a four-sided island site, operating at virtually full occupancy.

This area of Leeds has been completely regenerated, enabling premium residential rental levels to be achieved and opening up the Arena Quarter as a major regional destination scheme with its own Marco Pierre White's restaurant and bar!"
The centre team have been undertaking a successful programme of bringing in new tenants to expand the shopping, leisure and dining offering within the footprint, as well as the impressive bars, restaurants and additional leisure venues that cater for the crowds visiting the First Direct Arena.
Most recently, the area has welcomed the opening of the new Ibis Styles Hotel and Marco Pierre White's restaurant and bar in the city. The work by the team has proved successful as the centre welcomed a record number of approaching 12m visitors in 2016.
Edward Ziff, Chairman and Chief Executive of Town Centre Securities, owner of the Merrion Centre, said:

"We could not be prouder to win this game changer award, and be recognised by other businesses in the region for the results of our hard work. The Merrion Centre is a key part of the Leeds property landscape, and we have ensured that we continue to make it a key destination for residents and visitors by updating and adding to our strong offering.

"The last few months have seen us welcome some great new brands, with a number of our new additions telling us we were the clear choice for them when looking for their first location in Leeds. We're not stopping here and have some every exciting plans to keep expanding our offering and ensuring the Merrion Centre offers something for everyone."