Town Centre Securities hails Merrion House as major redevelopment completes
Fri 02 Feb, 2018
Owner of the Merrion Centre, Town Centre Securities' flagship Merrion House building in Leeds has achieved practical completion of its refurbishment and extension works under one of the biggest public and private sector partnerships agreed in recent years.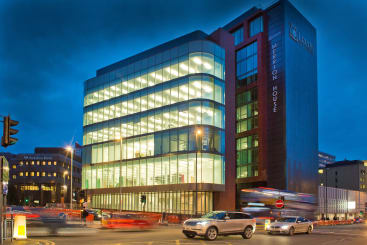 The ten-storey building is jointly owned by the leading Leeds and London based property development and investment company (TCS), and Leeds City Council under a unique long-term partnership.
Offering 170,000 sq ft of office space, Merrion House will be the main city centre office base for Leeds City Council, housing 2,196 staff including all public-facing services and some from West Yorkshire Police and Leeds Community Health Care. Staff will be under the same roof together with a customer services hub, once the councils fit out completes later in the year.
BAM Construction has delivered the project, which is TCS's largest development scheme and one of the largest ever pre-lets in the city. Work has included deconstructing the existing building, before recladding and glazing the exterior and together with the addition of a stunning atrium and extension.
The Merrion House milestone completes TCS's successful £70m, ten year development and improvement project for its largest single asset, the Merrion Centre in Leeds, of which Merrion House forms part.
Edward Ziff OBE, Chairman and Chief Executive of TCS, said: "The redevelopment of Merrion House and public-private partnership approach between Leeds City Council and Town Centre Securities have been hugely successful and we are proud to be assisting with the Council as it evolves its services with significant operational cost savings.

"Merrion House forms a key part of the continued multi-million pound investment and regeneration of Merrion Centre and the wider Arena Quarter.

"We expect the development to drive additional footfall to the already record-breaking Merrion Centre as an effect of the public using the customer services hub and council staff visiting the shopping centre on a regular basis."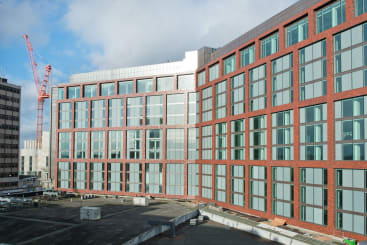 Simon Sutcliffe, project manager at BAM Construction, said: "The redevelopment of Merrion House has been a major project for BAM Construction and one that we're extremely proud to have played our part.
"It has been a privilege to lead this project with Town Centre Securities and Leeds City Council in creating an ultra-modern, state-of-the-art building; one that Leeds should rightly be proud of."
The original Merrion House was developed by TCS in the 1970's, and occupied by Leeds City Council. The refurbishment and extension will allow the council to continue its occupation for a number of years to come.