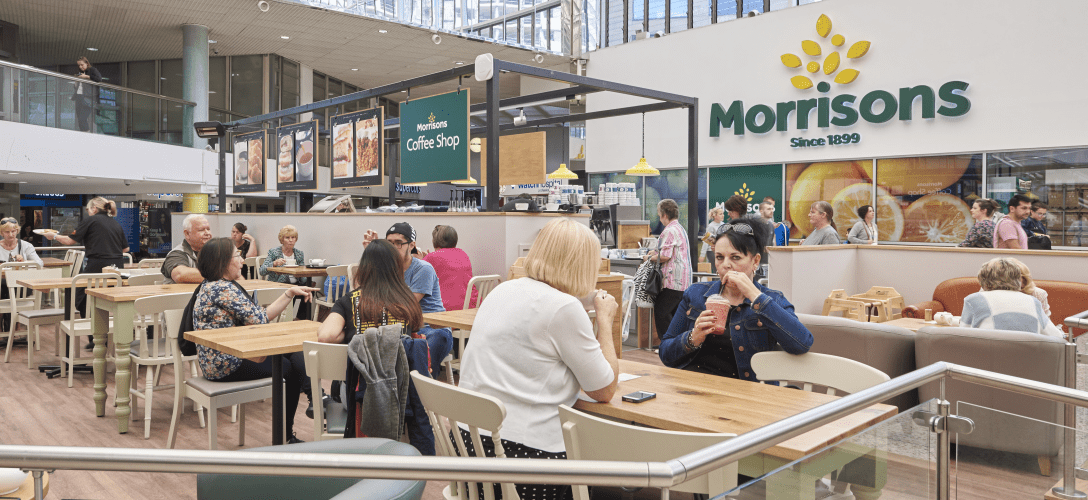 Morrisons adds customer cafe to Merrion Centre store
Wed 08 Jun, 2016

Take away coffee and hot food on offer
Morrisons has launched a new customer cafe directly in front of its Merrion Centre store in response to customer suggestions.
The store, which opened in 1972, is one of Morrisons busiest supermarkets with up to 68,000 customers passing through its doors each week. In partnership with Town Centre Securities PLC, Merrion Centre Morrisons recently underwent an extensive revamp. This saw the store extend into the former Peacocks unit and the whole supermarket significantly refurbished in order to make shopping simpler for customers. In addition, new departments including a Make Your Own Pizza counter, extensive salad bar and large Food to Go section at the store entrance, were added.
The new cafe takes the Food to Go offer a step further by creating a menu tailored to suit Merrion Centre shoppers and busy city centre workers, with many hot foods and drinks available to take away. The cafe will also cater for early morning commuters with a range of pastries and hot breakfast sandwiches available from 7am Monday to Saturday and 10.30am on Sundays.
The cafe opened this morning with a ribbon cutting ceremony by one of the store's longest serving colleagues Denise Garnett, who has been at the Merrion Centre store for 38 years. The shopping centre's landlords, Town Centre Securities, gave their support with Chairman and Chief Executive Edward Ziff and associate director Helen Green also part of the ribbon cutting.
Morrisons Merrion Centre store manager, Matthew Longbottom, said: "Our customers kept telling us that they loved the cafes in our other stores and wanted the Merrion Centre store to also have a cafe for them to sit, catch up with friends and enjoy meals made by Morrisons. We've listened and created the new cafe which is in a great spot for our customers and shoppers using the Merrion Centre. We know our customers are busy and want to be able to grab breakfast and lunch quickly, so many of our meals can be ordered as a takeaway which should be a huge benefit for our shoppers."
Helen Green, Associate Director at Town Centre Securities said: "We are delighted that Morrisons is so successful and continues to expand within the Merrion Centre and that it has now included the new cafe as part of the store offering. The centre and the wider Arena Quarter has an expanding and evolving leisure offer with some terrific food and drink outlets. The new café is adding to this offering.
"The centre saw over 11 million visitors last year and continues to go from strength to strength. Current footfall is up +9% in the year to date and so we're delighted that such a well-established brand continues to invest and show dedication to attracting more shoppers to Merrion Centre."
Morrisons has 400 cafes, serves 350,000 breakfasts per week, and 35 million meals each year nation-wide. The freshest home-grown produce is used throughout Morrisons menu which is available all day during store opening hours and includes gluten free sandwiches, children's lunch boxes, hot soup and paninis.