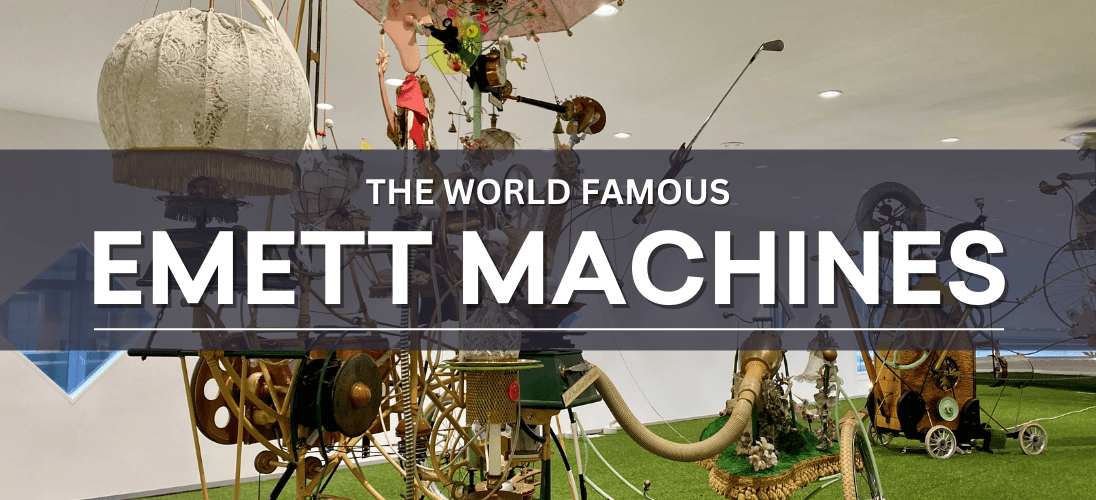 Emett Machine Exhibition
Sun 1 Jan – Sun 31 Dec 2023

Does the Merrion Centre conjure up childhood memories of when you used to visit to take a look at the 'Flying Kite' back in the 1960's?
Well… a whopping 6 of the famous Emett Machines ARE BACK WHERE THEY BELONG for a new generation to come and learn about these fantastic, unique pieces of historical working art!
Created by cartoonist and inventor Rowland Emett in the 1960's, the machines were designed to help people do things which were impossible to do (with several appearing in the cult hit film, Chitty Chitty Bang Bang!).
Arnold Ziff, founder of Town Centre Securities PLC who originally built and who still own the Merrion Centre today, became fascinated by the machines and became close friends with Emett (hence why a sculpture was located in the centre in its infancy).
The "Featherstone-Kite Openwork Basketweave Mark Two Gentleman's Flying Machine" was on permanent display in a glass display cabinet and was activated regularly to entertain audiences for years.
After a few brief appearances and having been safely stored away, as recent developments across the centre are now complete and due to popular demand, the time is now right to bring some of these 'truly scrumptious' machines back out for the general public to once again enjoy!
The FREE exhibition is located on the upper balcony level (adjacent to the NHS Clinic) & includes the following machines:
- The Humbug Major Sweet Machine
- The Little Dragon Carpet Sweeper
- The Fairway Birdie
- Emmett Television/Visivision Machine
- The Hot Air Rocking Chair
- The Clockwork Lullabye Machine
With all machines activating for 10 minutes on the hour every hour… we look forward to welcoming you to soon to see the 'FANTASMAGORICAL' Emett Machines once again!
All exhibits can be found on the upper balcony level which can be accessed by lift/escalator. Please note whilst machines are visible at balcony level this does have a restricted viewing area for those with restricted mobility
Please note: Exhibits may vary subject to space available within the centre. Whilst we endeavour to keep all items in full working order some pieces may not be operational at certain times due to pending maintenance