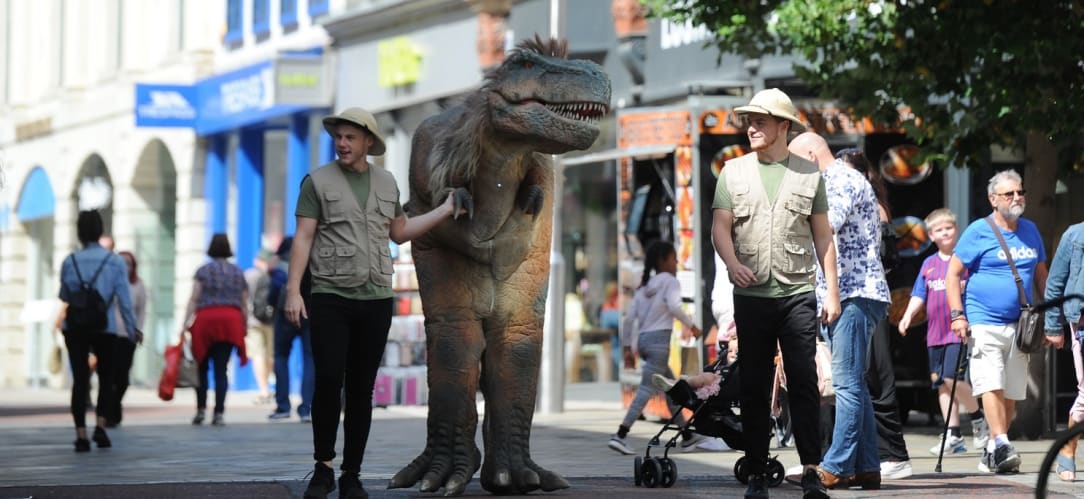 Dino-mighty new Leeds event set to be a UK first
Mon 22 Jul, 2019
The UK's first ever city centre animatronic dinosaur trail will roar into life this summer when Leeds takes a trip millions of years into the past.
Giant dinosaurs will be taking up residence across the city, including the Merrion Centre, as part of the Leeds Jurassic Trail – a free event running during the summer holidays from Saturday 27th July to Sunday 1st September.
LeedsBID (Leeds Business Improvement District) has teamed up with various locations across the city to create the ground-breaking new partnership and experience which aims to attract people to Leeds this summer.
Andrew Cooper, Chief Executive of LeedsBID, said:

"LeedsBID is about bringing businesses together and animating the city with experiences which would otherwise not normally happen – and you don't get much bigger than dinosaurs.

This is one of our most roar-some projects to date, working in collaboration with independently owned shopping centres, Leeds City Council and ourselves to do something no other city to our knowledge has done before."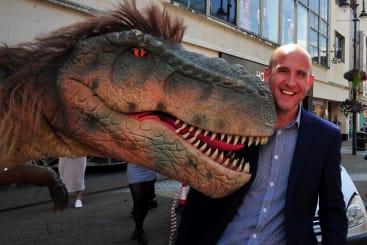 James Broughton, Head of Marketing for Town Centre Securities (TCS), owners of the Merrion Centre, said:
"The Merrion Centre has a long history with Leeds, although maybe not as far back as 65 million years, so it's amazing to be part of this game-changing dinosaur event across the city. We love to give visitors to the Arena Quarter an experience that they can't get online and it is attractions like this that really drive footfall to the centre and whole city, which can only be a good thing."
To view details of the Merrion Centre's Dinosaur please visit: merrioncentre.co.uk
In addition, as part of Leeds Jurassic Trail, the Merrion Centre has teamed up with a variety of venues to offer some JURASSIC OFFERS on food and entertainment for visitors to Leeds Arena Quarter.
For details CLICK HERE