Leeds Jurassic Trail
Sat 30 Jul – Sun 4 Sep 2022
FIND THEM – BEFORE THEY FIND YOU!
Did you have a ROAR-SOME time at Leeds Jurassic Trail in 2019 & 2021?
Well this Leeds is being OVERTAKEN by a whole host of full size, moving dinosaurs… including a HUGE BRACHIOSUARUS at the Merrion Centre!
This city wide, free trail is sure to wow young & old alike as families search across the city for the 12 dinosaurs… we just hope ours doesn't go walk about!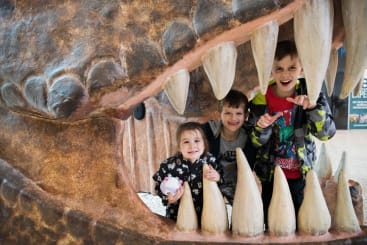 NOW EVEN MORE ROARSOME!
From Saturday 30th July until Sunday 4th September, get up close & personal with our full-size moving Brachiosaurus and grab a photo in our rather unique 'jaw-some' selfie spot on the main mall!
Don't forget to get your map stamped at our Leeds Hospitals Charity Shop that can be found on our main mall close to the dinosaur!
LOOKING TO MAKE YOUR DAY OUT EVEN MORE FUN?
To check out our guide where to shop, eat, drink & be Merrion with your little one's this Summer CLICK HERE