Leeds Jurassic Trail
Sat 27 Jul – Sun 1 Sep 2019
Get up close and personal with a full-size moving Triceratops that's making its home in the Merrion Centre this summer from Saturday 27th July until Sunday 1st September.
A monster free attraction, it's sure to wow young and old alike as it takes over the main mall. In fact, it's so big we hope it doesn't go walk about!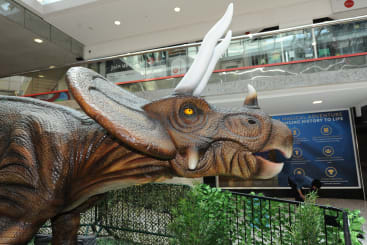 This fantastic animatronic dinosaur is just one of many you can hunt out as part of Leeds Jurassic Trail. Fun for the whole family, there are different ones to find around the city centre. So, make sure you find them before they find you!
We'll be celebrating our giant visitor with loads of great offers throughout the Merrion Centre. Make sure you don't miss any by visiting our Jurassic offers page!