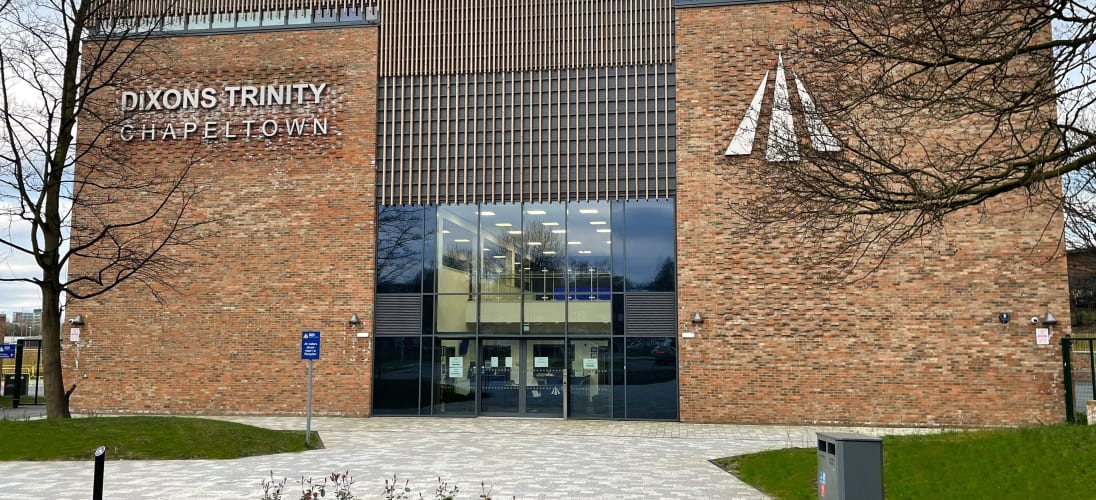 Dixons Trinity Chapeltown crowned winners of Merrion Centre Challenge
Mon 22 Mar, 2021
A group of Year 9 students from Dixons Trinity Chapeltown have been named the winners of the Merrion Centre Challenge 2020 after pitching their idea for a recycling and vegan meals scheme in their temporary school building to a panel of judges from owners of the Merrion Centre, Town Centre Securities PLC (TCS).
Students from Cockburn John Charles Academy, Leeds West Academy and Dixons Trinity Chapeltown took part in a launch at the Merrion Centre in February 2020 before the coronavirus pandemic hit the UK, where they took part in workshops runs by volunteers from the Merrion Centre on sustainability and the environment as well as the city's Climate Emergency Response.
Students pitched their ideas on video for the judges to watch and select a final winner when schools returned in September. Dixons Trinity Chapeltown chose to present their idea to the judges in the form of a rap, written and performed by the students, and planned their scheme with the help of Leeds City Council.
Charlotte-Daisy Leeming, Head of CSR at TCS and one of the judges said:

"We were delighted with the enthusiasm from the students taking part, despite a challenging time for young people during the pandemic. Helping young people understand how important sustainability is for all of us and how businesses like ours can change operations to make them more planet-conscious is really important to Town Centre Securities and the Merrion Centre, as they are future customers and leaders in our business.
"We thought the winning rap was outstanding, with excellent planning and attention to detail, and the students that took part should be really proud of their ideas and teamwork in bringing it together. We've thoroughly enjoyed working with Ahead Partnership to be able to complete another enterprise challenge for young people in our community in Leeds."
Laura Fisher, Head of Computing at Dixons Trinity Chapeltown, added:

"The students really learned a lot by taking part in this challenge. They began to understand how low carbon careers are a growing and integral part of many sectors by meeting the people working behind the scenes at Town Centre Securities to make those changes happen. They also got to practice important transferable skills such as communication and teamwork to bring their project together which will stand them in excellent stead for the future. We are very proud of their achievements.