Merrion Centre 55th Anniversary Exhibition
Thu 30 May – Tue 2 Jul 2019
OPEN NOW!
This year we celebrate being part of the heart of Leeds for a phenomenal 55 years!
As part of our anniversary celebrations, we welcome you to take a trip down memory lane and join us in our 'Then & Now' pop-up exhibition on the main mall.
The exhibition sees us taking a look back at just a small sample of some the iconic places that we have seen at the Merrion Centre over the years – we are sure this will bring back many happy memories for the people of Leeds!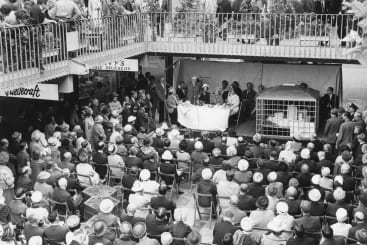 From Ballroom to Bowling, Films to Flying Machines, we look at some of our most memorable moments from the first opening of our doors on 26th May 1964, to seeing just how far we have come with some fascinating "then and now" comparisons.