COMING

SOON

…
There's a new hospitality player coming to Leeds, and this one promises to bring those bored taste palates to life!
Casual dining dive "Cult Wing" is the latest addition to the buzzing, independent restaurant scene at Leeds' Merrion Centre and prides itself for its flavour-packed menus.
For guests who are "Always Hungry", Cult Wing will dish out fried wings, gourmet burgers, craft beers and tequila flights – among many other exciting options.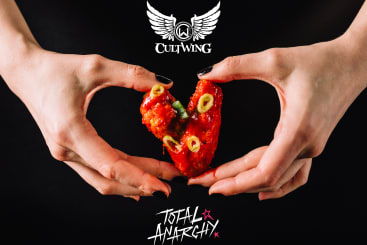 While there might be many casual dining spots in the city of Leeds, Cult Wing's use of fresh ingredients and choice of unique flavour options – including "Rock Chick Chipotle", "BBQ Bones" and the ever-cool "Skulldive Herb" – will set it in a league of its own.
In line with its cool brand, Cult Wing will offer a laid-back yet attentive style of service. Upon arrival, guests will be at liberty to choose their own tables and order food and drinks at the till when they're ready.
The restaurant is expected to become a popular chill-out spot for groups of friends, casual foodies; and anyone else who's looking for an alternative drinking or dining experience – without forking out a ton of cash.
Diners will be invited to dive into freshly-fried wings, coated in a range of spice levels (from mild to hot – to extra hot for the brave!). As well as gourmet burgers that don't skimp on the fillings, and double-coated crunchy fries. These mouthwatering feasts will be prepared fresh on-site, to guarantee upmost quality and satisfaction.